Classification of carbide
September 06, 2023 view: 1,212
Carbide can be divided into two categories: metal ceramic carbide and steel-bonded carbide. Metal ceramic carbide are alloys formed by mixing some refractory, high-hardness metal carbide powders (such as WC, […]
Carbide can be divided into two categories: metal ceramic carbide and steel-bonded carbide.
Metal ceramic carbide are alloys formed by mixing some refractory, high-hardness metal carbide powders (such as WC, TiC, etc.) with binders (cobalt, molybdenum, nickel, etc.), pressing them into shape, and then sintering them. They are named after their similarity to ceramic sintering. Due to their wide application in carbide, they are commonly referred to as carbide.
Basic composition and mechanical properties of commonly used carbide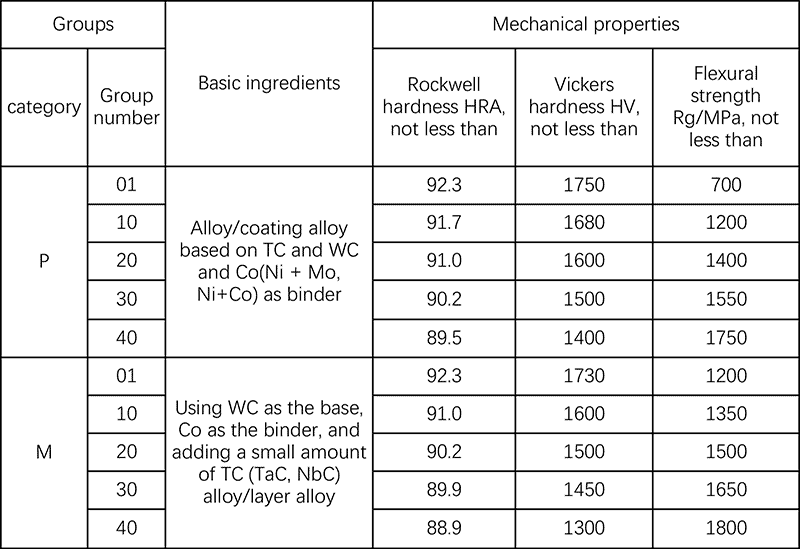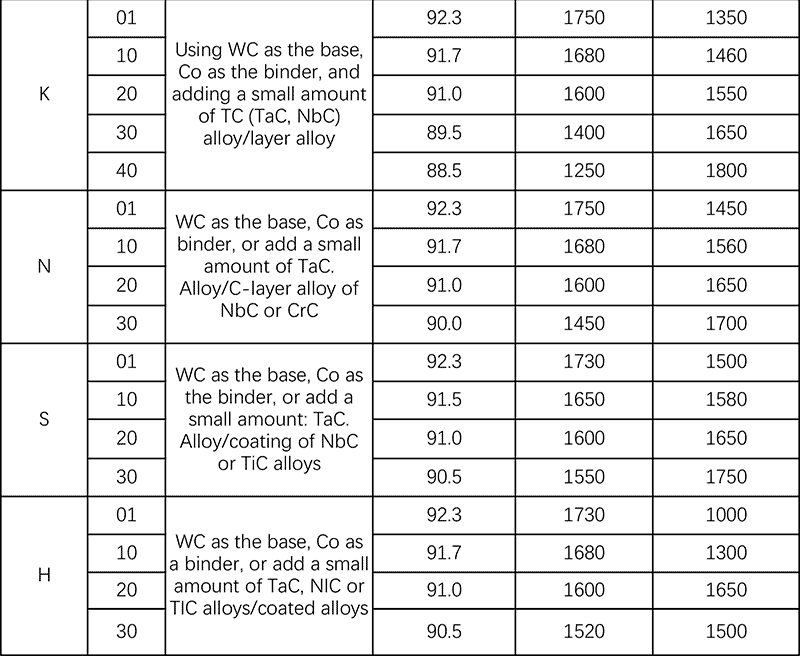 Steel-bonded carbide are a new type of tool material with properties between high-speed steel and metal ceramic carbide. They are composed of one or several carbides (such as WC, TiC) as the hardening phase and carbon steel or alloy steel powders (such as high-speed steel, chromium-molybdenum steel, etc.) as the binder. They are mixed, pressed, and sintered. After annealing, steel-bonded carbide blanks can be machined. After quenching and tempering, they exhibit high hardness and wear resistance similar to metal ceramic carbide. They can also be forged, welded, and have characteristics such as heat resistance, corrosion resistance, and oxidation resistance.
The classification of carbide for cutting purposes is divided into six categories: P, M, K, N, S, and H, based on the field of use. Each category is further divided into several groups with two-digit group numbers, such as 01, 10, 20, etc., to meet different usage requirements and the different wear resistance and toughness of carbide materials for cutting tools. In some cases, a supplementary group number can be inserted between two group numbers, represented by 05, 15, 25, etc.
Categories and application fields of carbide
In addition to the above classifications, the selection of carbide for geological and mining purposes and wear-resistant parts also depends on specific requirements. Our company is a professional carbide processing manufacturer, providing services such as grinding, EDM, wire EDM, CNC, and polishing. Please feel free to inquire.