Applications of carbide
September 06, 2023 view: 1,149
Used as cutting tool materials: carbide are primarily used as cutting tool materials, such as turning tools, milling cutters, planing tools, drills, etc. Tungsten-cobalt carbide are suitable for machining short […]
Used as cutting tool materials: carbide are primarily used as cutting tool materials, such as turning tools, milling cutters, planing tools, drills, etc. Tungsten-cobalt carbide are suitable for machining short chips of ferrous metals, non-ferrous metals, and non-metallic materials such as cast iron, brass, and synthetic wood. Tungsten-titanium-cobalt carbide are suitable for machining long chips of ferrous metals, such as various types of steel. Within the same alloy category, carbide with higher cobalt content exhibit better toughness, making them suitable for rough machining, while carbide with lower cobalt content are suitable for precision machining.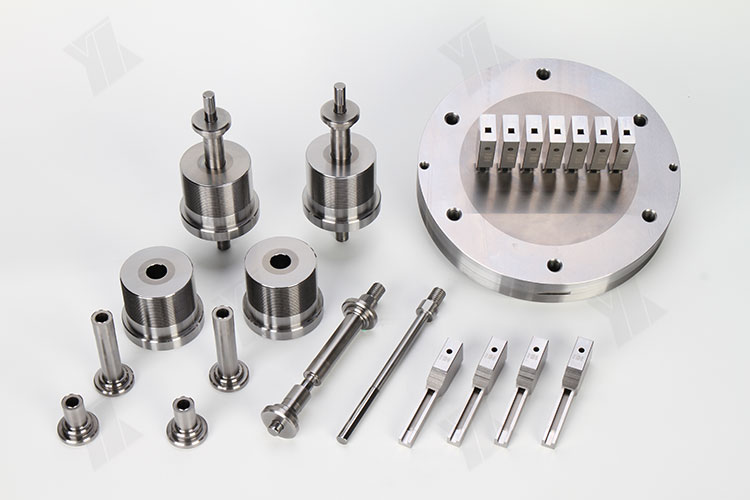 Carbide can be used to cut both short chips and long chips. For certain difficult-to-machine materials (such as stainless steel), carbide have a much longer service life compared to other carbide.
Used as mold materials: carbide are commonly used in cold working molds, such as deep drawing dies, blanking dies, cold extrusion dies, and cold heading dies. Tungsten-cobalt carbide are suitable for deep drawing dies, with grades like K10 and K20 suitable for small deep drawing dies, and K40 suitable for large deep drawing dies and blanking dies.
Used for measuring instruments and wear-resistant parts: carbide can be used to manufacture measuring instruments such as micrometers, gauge blocks, and plug gauges. The surfaces of various specialized measuring instruments are often embedded with carbide to improve their wear resistance, extend their service life, and enhance measurement accuracy. The commonly used grade for this purpose is K10. carbide can also be used to manufacture wear-resistant parts, such as precision rolling rolls, lathe tips, precision bearings for precision grinding machines, guide rods and guide plates for centerless grinding machines. Tungsten-cobalt carbide are commonly used for these applications.