We Took Part in Amerimold exhibition in Chicago
July 23, 2023 view: 1,609
In 2019, Yize Mould participated in the Amerimold exhibition in Chicago, Illinois, USA. This was an international exhibition that focused on mold and mold parts, custom tungsten carbide parts manufacturing […]
In 2019, Yize Mould participated in the Amerimold exhibition in Chicago, Illinois, USA. This was an international exhibition that focused on mold and mold parts, custom tungsten carbide parts manufacturing and attracted many mold manufacturers and professionals from all over the world. As a company that specialized in mold manufacturing, Yize Mould displayed its products and technologies at the exhibition to expand its market and customer base.
During the exhibition, Yize Mould mainly displayed mold parts and custom tungsten carbide parts, including various types of molds, injection molds, stamping molds, precision molds, etc. These mold parts were widely used in automotive engineering, electronic and electrical engineering, aerospace, medical technology, fixtures, mechanical equipment manufacturing, and other fields. These fields had very high requirements for molds, which required high precision, high quality, and high efficiency to meet customer needs.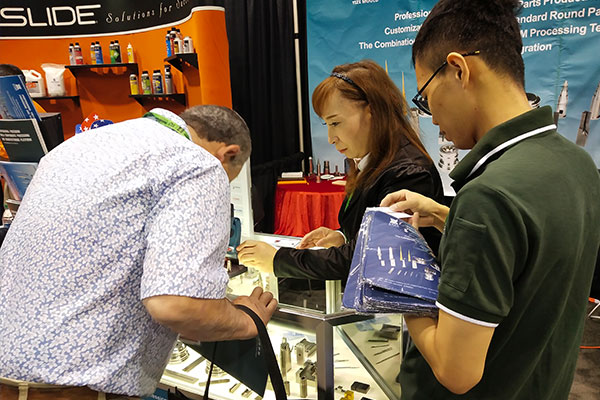 The booth of Yize Mould attracted a large number of professionals during the exhibition. They came from different countries and regions, including the United States, Europe, Asia, and other places. These people included mold makers, mold designers, buyers, engineers, etc. They showed strong interest in the products and technologies of Yize Mould and conducted in-depth exchanges and cooperation with representatives of Yize Mould.
The custom tungsten carbide parts products and technologies displayed by Yize Mould at the exhibition were highly recognized and praised by professionals. They praised Yize Mould's professionalism, quality, and service and expressed their willingness to establish a long-term cooperative relationship with Yize Mould to jointly develop a broader market.
In short, in 2019, Yize Mould participated in the Amerimold exhibition in Chicago, showing its own mold parts products and technologies and attracting a large number of professionals to watch. This exhibition expanded a wider range of markets and customers for Yize Mould and laid a solid foundation for its future development.