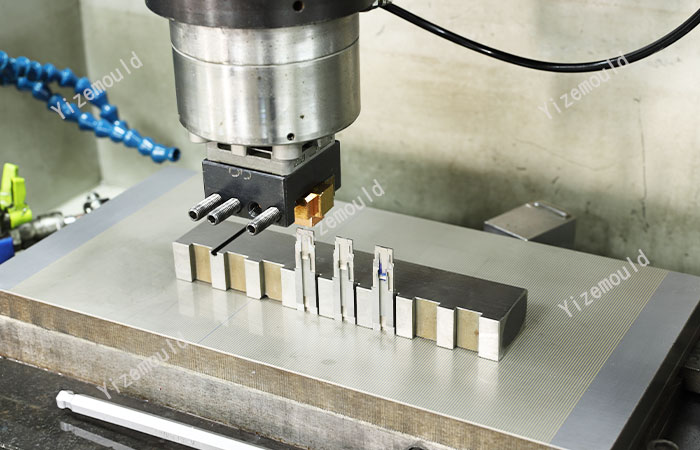 EDM carbide
Cheap factory. To overcome milling or drilling, choose EDM carbide to achieve the accuracy of 0.001 mm level, which can meet the requirements of high hardness, high strength and high wear resistance
Carbide machining is a highly effective solution for machining difficult materials and complex shapes. Carbide hardness typically ranges between 89 to 95HRA, making it necessary to process 3-4 times longer than other mold steel parts, such as S136, SKH51, ASP60, and others.
Carbide EDM processing can effectively solve complex mold cavities or intricate shapes. It is particularly suited to handling difficult-to-reach holes, small cavities, glossy surfaces, slotted holes, and oddly shaped cavities. Additionally, it is well-suited for high-precision micro-machining. The processing tolerance for carbide parts is an impressive 0.002mm, with a clean finish of 0.015mm, and a mirror-like polish with a Ra0.2 rating.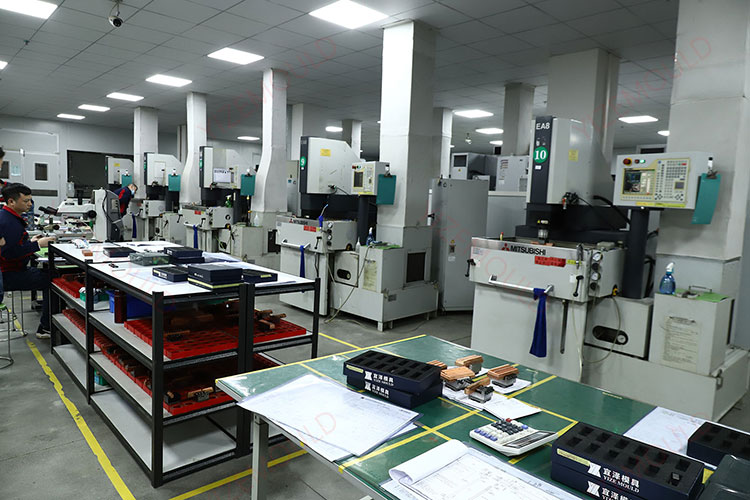 YIZE Mould's Mitsubishi EDM carbide workshop
We focus on training our EDM workers to ensure high efficiency and quality in our products. We continuously update our processing techniques and quality control standards to meet the demands of our customers.
We use EDM machines and testing equipment to ensure high-quality carbide parts and other products.
To prevent issues such as mar, rounded corners, and wire EDM burrs during the discharge process, we use appropriate parameters and optimize the discharge path.
To avoid bruising, slump, and edge blasting during the discharge process, we take measures such as carefully selecting the discharge parameters and using appropriate flushing.
Batch electric discharge machining of cemented carbide parts has advantages such as improved efficiency, consistency, and accuracy.
We prevent and repair the deformation of cemented carbide parts by controlling the discharge parameters, optimizing the discharge path, and using appropriate clamping techniques.
Adjusting the discharge parameters uniformly helps to achieve consistency in the discharge process and improves the quality of the final product.
Precision mirror EDM requires skills such as selecting the appropriate electrode material, controlling the discharge parameters, and using appropriate flushing.
We conduct weekly reviews and discussions to address any issues that arise during machining processing. This approach helps us to improve processing efficiency and avoid making the same mistakes repeatedly. Additionally, we have established a carbide system that collects data for important case studies.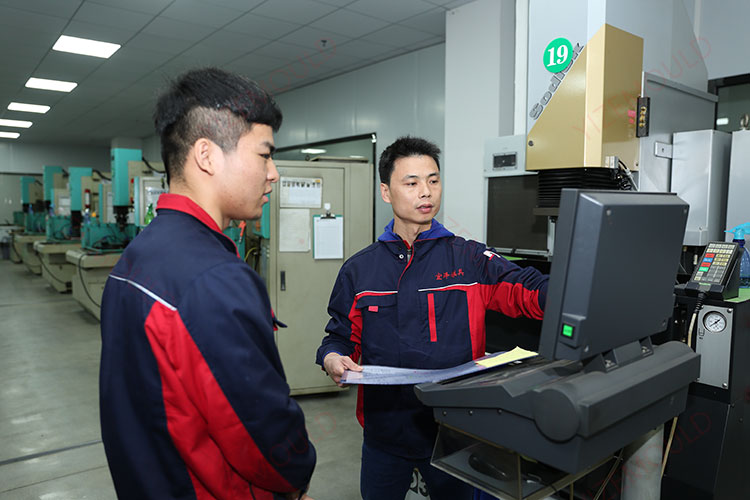 An image capturing YIZE Mould's carbide EDM on-site training in a Sodick-EDM workshop.
To optimize our operations, we evaluate the strengths and features of our EDM engineers using Amiba data. This allows us to assign work based on their strengths, such as processing special shapes and parts with high shaping ease that require precision EDM machining.
When it comes to EDM machining, the time required for processing tiny, long carbide parts can vary. For larger products that require high mirror EDM, the processing time can also vary.
If the machining time for EDM processing is more than 30 hours, we typically choose to pre-make the large insurance carbide parts to ensure accuracy and efficiency.
During EDM processing, it is important to maintain a tolerance precision of better than 0.005mm.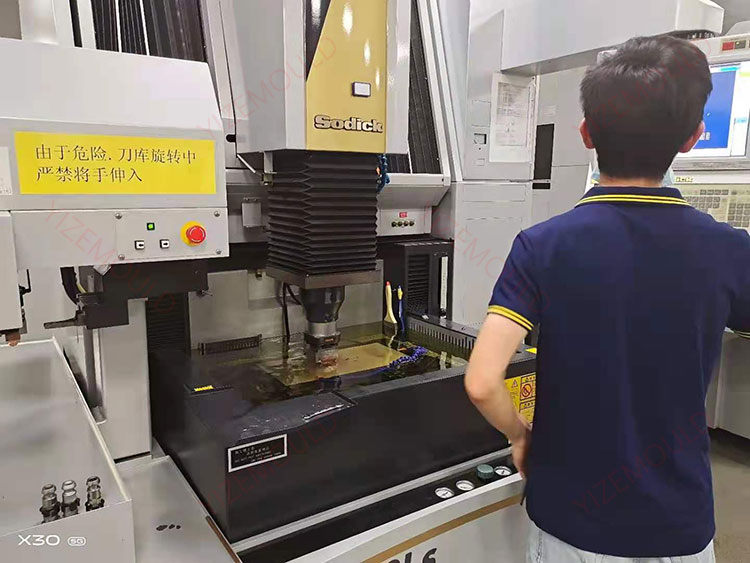 Carbide material is known for its high cost and challenging processing, making quality control a critical factor in improving efficiency. A single rejected part can significantly impact delivery times for clients and result in wasted costs for the factory. To prevent such issues, our EDM engineers take great care in controlling the quality of the product during the processing and machining of carbide parts. They perform testing throughout the process, and the QC department conducts final testing to ensure that the product meets our high standards. By prioritizing quality control, we ensure that our clients receive high-quality products on time and with minimal waste.
To ensure the quality of our carbide parts, we follow a set of guidelines:
Confirm the shape and location of the carbide parts and ensure they match the drawings.
Confirm the tolerance requirements specified on the parts drawings and mark the EDM tolerance on the drawings.
Highlight any nonconformance to the specified tolerances on the drawings.
Process C corners, R corners, and intersection points without a standard tolerance according to a 0.02mm tolerance.
Meet any special tolerance demands specified on the drawings.
Ensure that the dimension deviation of the parts is no more than 0.002mm.
Ensure that there is no surface-to-surface contact step that exceeds 0.005mm.
Ensure that the clear angle is not marked below 0.05.
Ensure that the gloss on the parts is uniform, with no obvious damage or poor slag discharge.
The bumped tread angle cannot exceed 0.03*0.03*0.03.
Ensure that there is no missed processing, and that any reprocessing required is properly marked.
Note that any parts that exceed the specified range must be confirmed and judged before delivery.
Yizemould was established in 2007 and has extensive experience in EDM processing. Our state-of-the-art equipment, including Mitsubishi and Sodick EDM machines, enables us to provide excellent support and service to our clients.
We specialize in the precision machining of various carbide parts, with tolerances ranging from 0.02mm to 0.002mm. We welcome you to send us your drawings, and we will provide competitive pricing for our services.