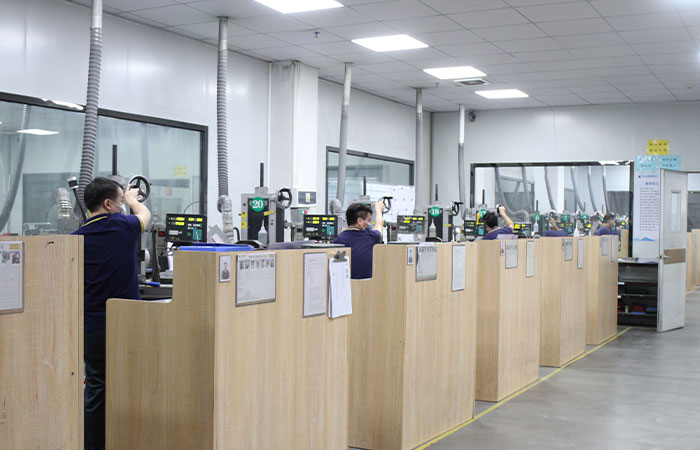 Carbide grinding machining
Cheap factory. 16 years,130workers, Carbide precision grinding and machining. tolerance 0.001mm. OD, ID, centerless, profile grinding, surface grinding on tungsten carbide.
Carbide grinding machining is a critical component of carbide processing, as many carbide products require grinding processing. There are various methods for carbide grinding processing, including Carbide surface grinder, Centerless grinding, Internal and external grinding, Punch grinder, Internal Grinding Machine, Profile grinding.
Carbide material has a hardness ranging from 89 to 95 HRA, which often requires the use of consumables such as cutters and grinding wheels during processing. Compared to standard steel, manufacturing time for carbide can be 3-4 times longer. We are capable of machining various shapes and features, including planes, outer circles, inner circles, inner holes, radii, and special-shaped heads.
The Carbide surface grinding machine shown in the picture below is used for processing carbide planes, steps, slopes, and other similar features.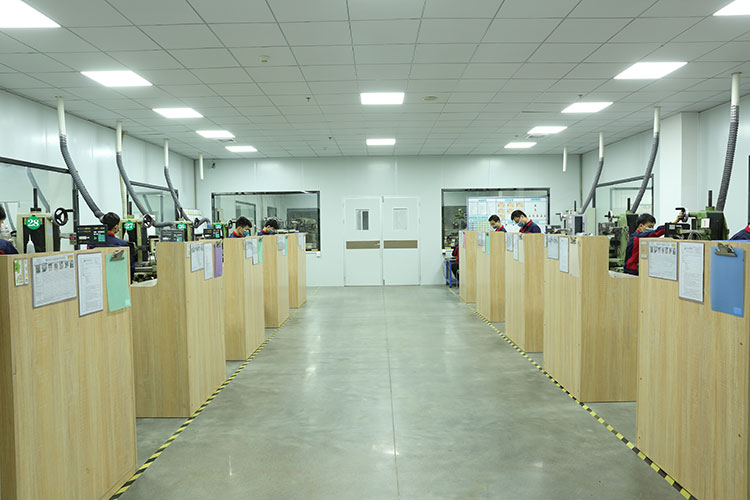 Carbide material is very expensive, so we take great care in its manufacturing process to avoid any costly mistakes.
Our processing department adheres to strict standards to prevent any low-level problems from occurring.
Preparation: Before processing, we pay close attention to all sizes, locations, and directional information on the drawings. We also make sure to mark the drawings appropriately.
Packaging: We use different parting boxes for different drawings, and ensure that each box is labeled with the corresponding part number.
Processing: We keep track of which parts have been processed by taking out the relevant drawings and putting away any unnecessary ones. This helps us to stay organized and efficient throughout the machining process.
The picture below shows a Carbide centerless grinding machine that is used for high-volume carbide machining. This cylindrical grinding machine guarantees concentricity, coaxiality, true roundness, and other important features during the processing of large quantities of carbide parts. Our company's processing accuracy can reach ±0.001mm.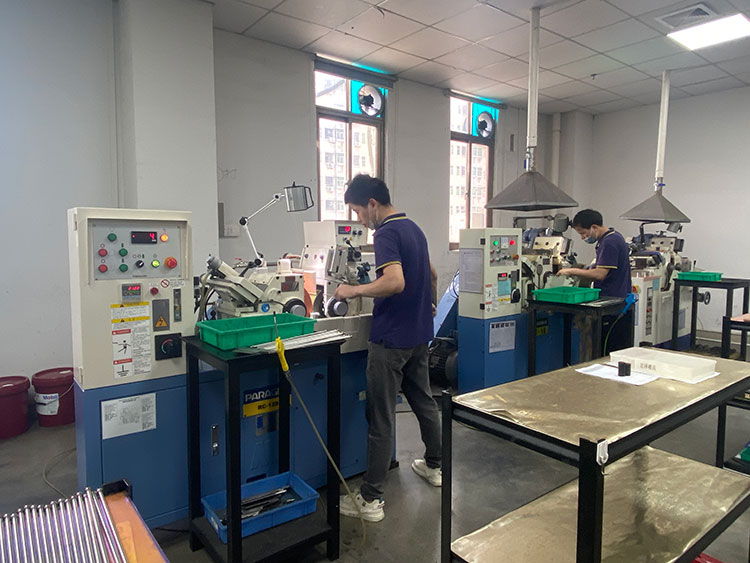 The details we pay attention to in processing:
When working with clients from different countries, it is important to pay attention to translations.
We adhere to the standard tolerances specified on the drawings.
Venting is confirmed before processing.
Any changes to the drawings are indicated using the Δ symbol.
Points marked with an asterisk (*) indicate differences.
We confirm any discrepancies between the PDF and CAD versions.
If sizes are not clearly specified, we confirm with the client.
The Carbide internal and external grinding machine shown in the picture below is used for processing parts with circular holes. This equipment can perform multi-faceted machining, including inner-outer circles, inner-outer end faces, and forward-back slopes, all at the same time. This results in more stable machining accuracy, effectively increasing the precision and processing range of the carbide parts being processed. Additionally, it ensures the concentricity and coaxiality of the inner and outer circles processed by the carbide.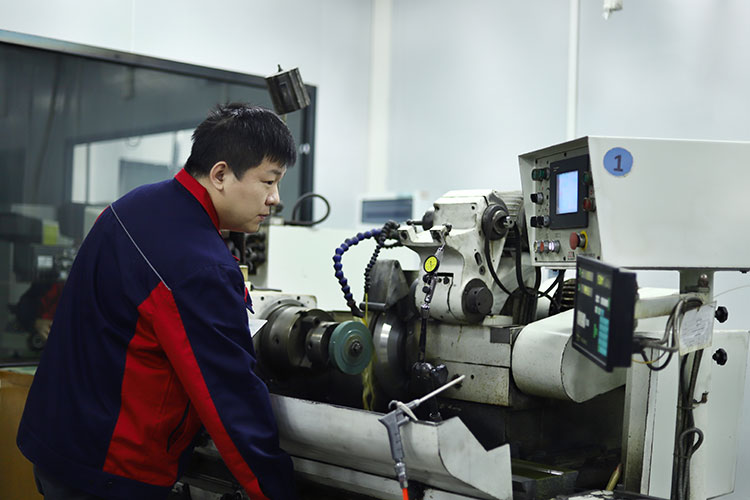 To improve the efficiency of our carbide grinding machines, we assign workers to specific carbide parts based on their individual strengths and expertise in the relevant technology.
This approach enables us to optimize our operations and achieve the best possible results for our customers.
Workers with strengths in short but complex processing, suitable for lower quantities.
Workers with strengths in long processing times, who can handle pre-processing and large quantities.
Workers with strengths in short manufacturing times, who can handle easy processing and lower quantities.
Workers with strengths in long processing times, complex processing, and pre-processing, suitable for large quantities.
The picture below shows the Carbide internal grinding machine that we use for processing small round holes in carbide. This equipment allows us to achieve a machining tolerance of ±0.002mm.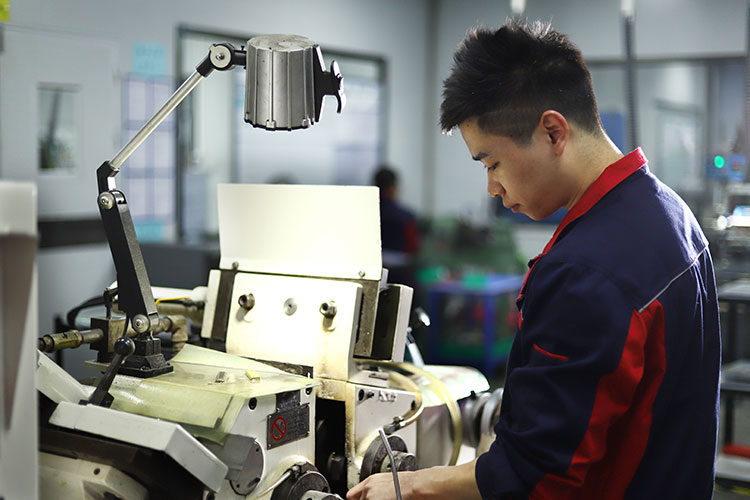 To ensure that our carbide grinding operations meet our high standards, we require our workers to perform testing on the processed carbide parts. This approach allows us to identify and fix any issues in a timely manner, thereby avoiding delays in delivery to our clients.
Our established rules and procedures for testing Carbide grinding machining ensure consistency and reliability in our operations.
Confirm the size and location of the parts.
Confirm the tolerance requirements.
Make sure to mark the drawings appropriately.
Write the actual tolerance on the small picture.
Mark the size of the processed part with a highlighter on the small picture.
The outer dimension can only exceed 0.001mm.
The right angle of the part can only deviate by 0.003mm at most.
Other molding dimensions can only exceed 0.002mm at most.
There should be no bell mouth at the forming position, and the steps, grooves, and sides should be straight.
Process the arc according to the requirements, and the maximum connecting step cannot exceed 0.002mm.
The clear angle is not marked below 0.05.
Follow any textual requirements.
The position size of the same size in different directions should not differ by more than 0.003mm.
The size of the hanging table should not be higher than the molding surface.
The finish should be fine, without obvious sand damage.
The bumped tread angle cannot exceed 0.03*0.03*0.03.
Ensure there is no missed processing (remarks are required for reprocessing after the process is returned).
Note: Any parts that exceed the specified range must be confirmed and judged before delivery.
The picture below shows the Carbide profile grinding machine that we use for machining carbide parts with a small radius, shaped tops, and other similar features. This equipment allows us to achieve a precision tolerance of ±0.002mm.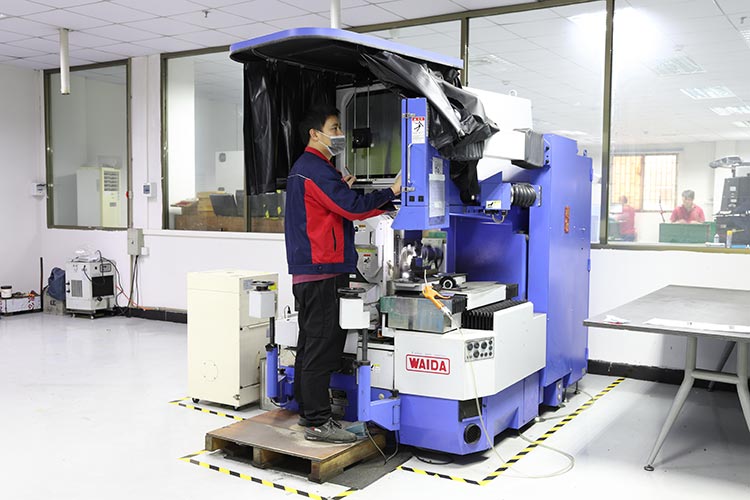 For small round carbide parts, we use the Carbide punch grinder shown in the picture below for processing.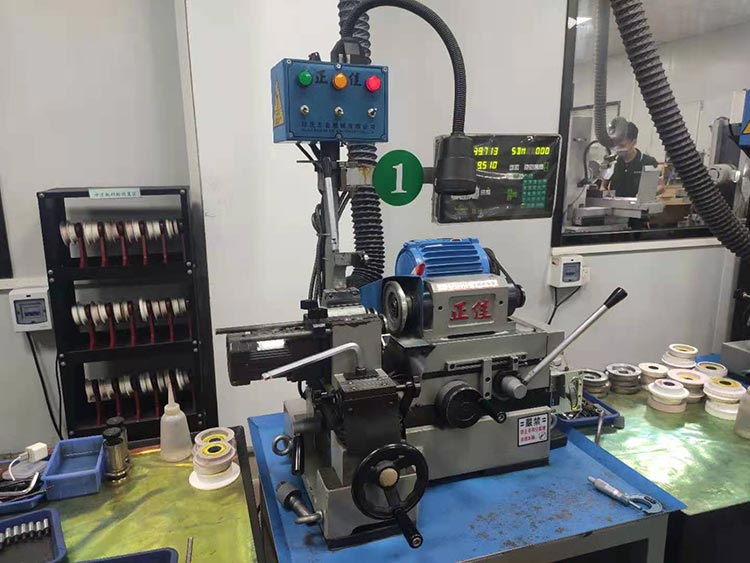 In addition to the Carbide grinding machines, we also have other Carbide grinding equipment that serves different purposes. We use these machines to process various products, meet specific product requirements, or improve the efficiency of our Carbide grinding machining operations.