3 types of materials for wire drawing dies
October 19, 2023 view: 596
During the wire drawing process, the dies experience significant friction, especially when drawing fine wires at high speeds. This leads to rapid wear of the drawing dies, necessitating materials with […]
During the wire drawing process, the dies experience significant friction, especially when drawing fine wires at high speeds. This leads to rapid wear of the drawing dies, necessitating materials with high hardness, wear resistance, and strength. The commonly used materials for wire drawing dies include the following:
Diamond: Diamond is the hardest known material in the world, with a microhardness ranging from 1×106 to 1.1×106 MPa. Diamond not only possesses high hardness and wear resistance but also exhibits exceptional stability in terms of physical and chemical properties, including excellent corrosion resistance. However, diamond is very brittle and can only withstand the pressure of drawing metals when the hole size is very small. Therefore, diamond drawing dies are generally used for drawing micro-fine wires with diameters below 1.2mm.
Carbide: carbide dies are commonly used when drawing wires with larger diameters. Most carbide drawing dies are made by pressing and sintering tungsten carbide as the base material with cobalt as the binder at high temperatures. carbide dies have the following characteristics: high wear resistance, good polishability, low adhesion, low friction coefficient, reduced energy consumption, and high corrosion resistance. These properties make carbide drawing dies widely adaptable to lubricants. However, carbide dies have lower tensile and impact resistance. As the drawing process involves significant tension on the dies, a steel sleeve is added to the outside of the carbide die to provide it with pre-stress, reducing or offsetting the working stress the die experiences during drawing and increasing its strength.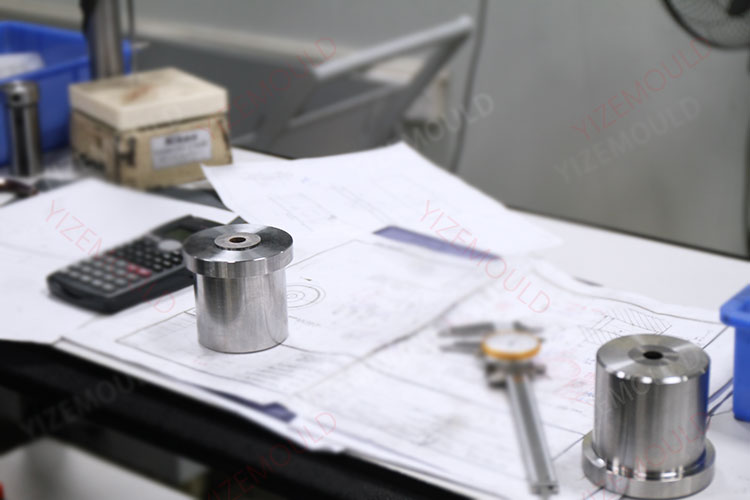 Ceramic Wire Drawing Dies: With the continuous development of the wire drawing industry, the selection of die materials needs to consider economic factors and practical efficiency. Ceramic materials have gradually become favorable materials for wire drawing dies due to their excellent physical and mechanical properties. Ceramic wire drawing dies possess high hardness, good wear resistance, strong chemical stability, and excellent high-temperature mechanical performance. They are less prone to adhesion with the metal wire during the drawing process, which helps improve the surface properties of the metal.