Pros and cons of micro electrochemical machining
October 30, 2023 view: 404
Micro Electrochemical Machining (ECM) is a machining process based on the principle of electrochemical anodic dissolution. As shown in the figure, during the machining process, the tool is connected to […]
Micro Electrochemical Machining (ECM) is a machining process based on the principle of electrochemical anodic dissolution. As shown in the figure, during the machining process, the tool is connected to the negative terminal of the power source, while the workpiece is connected to the positive terminal. The tool is slowly fed towards the workpiece until a small gap is maintained between them, and an electrolyte solution with a certain pressure flows through the gap. In this process, the workpiece gradually undergoes electrochemical corrosion until its surface forms a shape opposite to that of the tool. Direct current power supply, machining gap, and electrolyte solution with a certain flow rate are necessary conditions for micro ECM.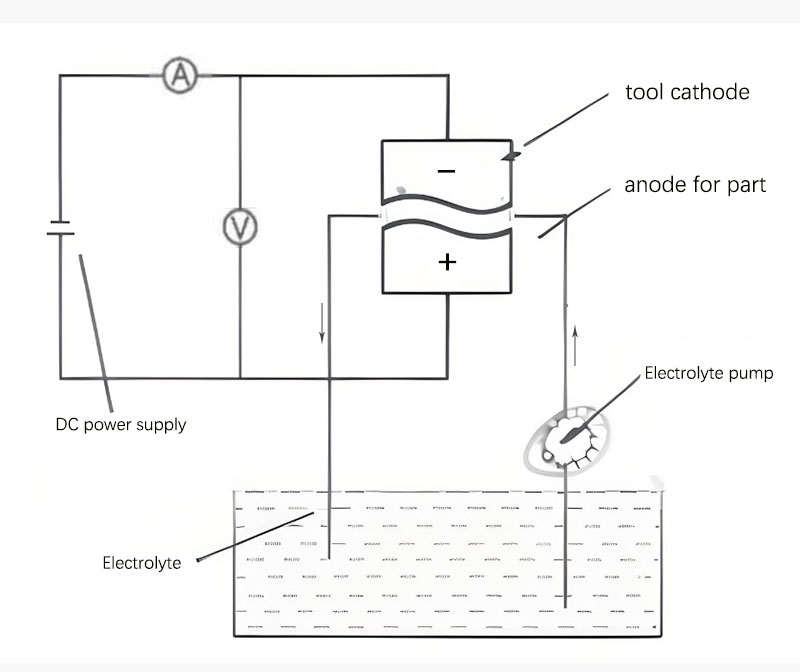 Micro electrochemical machining principle diagram
Compared to other machining methods, micro ECM has the following advantages:
It has a wide processing range and can virtually process all conductive materials without being affected by the mechanical properties of the workpiece material. It can process materials such as high-temperature resistant alloys, stainless steel, and carbide.
There is no contact between the tool and the workpiece during the machining process, making it suitable for processing thin-walled parts and easily deformable components.
The processed workpieces have a high surface quality. The process does not generate heat-affected zones, residual stress, microcracks, burrs, or flash. The surface roughness can reach 0.2-1.6 μm.
It has a high cutting rate, and the tool has no wear. The electrochemical reaction on the cathode during the machining process results in gas precipitation, without material removal or deposition. As long as no accidents such as short-circuit burns or mechanical collisions occur, the tool cathode can be used for a long time.
However, micro ECM also has the following disadvantages and limitations:
The machining precision and stability are not yet high enough. When used for machining three-dimensional cavities and surfaces, the machining precision is lower than that of electrical discharge machining (EDM). It is relatively challenging to control the machining of small holes and narrow gaps.
The by-products of electrolytic machining may pollute the environment and, under certain conditions, may produce substances harmful to human health. Therefore, the recycling and pollution prevention of electrolytic by-products require special attention.
The equipment for electrochemical machining is complex, expensive, and occupies a large area.
Due to its unique process characteristics, micro ECM is particularly suitable for machining metal parts or microstructures, especially for parts or structures in the aerospace and defense equipment fields that have special requirements for surface quality, such as burr-free and flash-free components. Examples include high-end diesel engine fuel injectors, micro flat coils in miniature eddy current sensors, and propulsion, transmission, and control units in micro air vehicles.