Cutting carbide with pcd tools
November 09, 2023 view: 155
The characteristic of carbide material is its high hardness and brittleness. It is used as a tool material, mold, and other wear-resistant parts. Previously, the only method to process it […]
The characteristic of carbide material is its high hardness and brittleness. It is used as a tool material, mold, and other wear-resistant parts. Previously, the only method to process it was grinding. With the emergence of superhard tools, carbide can also be cut with cutting tools, which has the following characteristics:
High hardness and brittleness: The hardness of carbide is HRA85~92.5 (HRC67~81), which is 20 HRC higher than general hardened steel, making it extremely difficult to cut. It lacks plasticity and has high brittleness. Under cutting forces and tool pressure, it is prone to edge chipping at the entry and exit points.
Chip formation in powder form: Due to the high brittleness of carbide, the chips produced are in the form of powder, resulting in easily achievable surface roughness.
High thermal conductivity, low cutting temperature: The thermal conductivity of carbide is 17W/(m·k)~88W/(m·k), which is on average 15 times higher than that of hardened steel, resulting in much lower cutting temperatures than hardened steel.
Short contact between chips and cutting edge: When cutting carbide, cutting forces concentrate near the cutting edge, leading to tool chipping. The main form of tool wear is flank wear.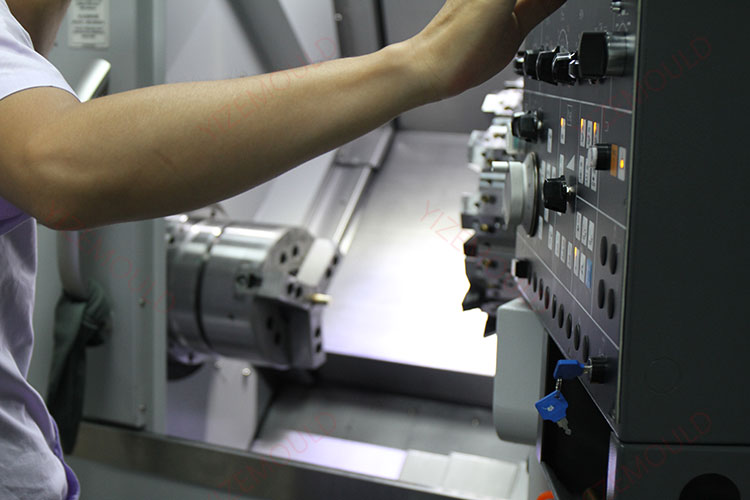 For machining carbide with PCD tools, grinding with green silicon carbide, boron carbide wheels, or diamond grinding wheels is commonly used, and cutting with PCD tools is also applicable. When cutting carbide with PCD tools, to prevent edge chipping due to the high brittleness of carbide, it is necessary to reduce the feed rate appropriately at the entry and exit points or create a chamfer in those areas, while ensuring a sharp cutting edge. During the cutting process, kerosene can be used as a cutting fluid.
Using PCD tools to machine carbide for molds has the following advantages:
Improved strength characteristics and performance of the mold: When cutting tungsten cobalt carbide molds with PCD tools, significant residual compressive stresses are generated on the machined surface, which can improve the strength characteristics and performance of the mold. Grinding with green silicon carbide wheels, for example, can generate high temperatures that result in annealing layers, microcracks, and residual tensile stresses on the workpiece surface, affecting the performance of the tool.

Increased processing efficiency: Using PCD tools produced by a certain company can achieve higher cutting efficiency compared to other existing machining methods.
Longer tool durability.