Machining Tungsten Carbide Challenges & Opportunities
July 23, 2023 view: 1,209
Tungsten Carbide is a highly durable material widely used in machinery manufacturing, mining, and petrochemical industries due to its strength, hardness, and wear resistance. However, the current Machining Tungsten Carbide […]
Tungsten Carbide is a highly durable material widely used in machinery manufacturing, mining, and petrochemical industries due to its strength, hardness, and wear resistance. However, the current Machining Tungsten Carbide method has limitations that restrict its application range and development.
1.1 High Cost
Machining Tungsten Carbide requires specialized materials and equipment, leading to high manufacturing costs. These costs include materials, equipment, energy consumption, and can make it difficult for small and medium-sized enterprises to afford carbide.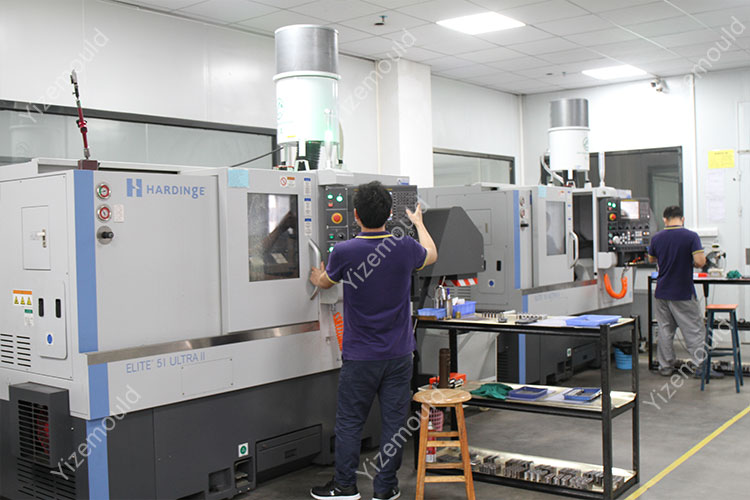 Hardinge machines improve efficiency support for the complex Machining Tungsten Carbide
In addition, many carbide products with complex shapes, such as hollow parts, inner holes, inner grooves, small-angle elbows, chip breakers of tools, etc., cannot be prepared by conventional and advanced powder metallurgy methods, which seriously limits the design space for Carbide alloy products.
1.2 Long Manufacturing Cycle
The manufacturing process of carbide involves multiple steps, resulting in a lengthy manufacturing cycle that hinders meeting urgent demands. In industries requiring high-quality products, such as aerospace and automobile manufacturing, the long cycle increases costs and production time.
1.3 Environmental Pollution
Carbide production generates pollutants during the manufacturing process, impacting the environment and the reputation of enterprises. Industries with strict environmental requirements impose restrictions on the pollution caused by carbide production.

When processing tungsten carbide, it is necessary to control the cleanliness of the site to meet the 5S standard
1.4 Waste Disposal Issues
The Machining Tungsten Carbide process produces waste and chips, posing environmental and health risks. Proper treatment and recycling of carbide waste are costly and challenging. Waste disposal is a significant concern globally.
To mitigate the impact of this challenge, it is necessary to take appropriate measures
Traditional manufacturing methods of carbide are cost inefficient due to high tooling costs. It also has limited shape versatility and cannot produce advanced composite structures, hindering carbide products' performance and application range.
Traditional preparation methods do have some drawbacks and limitations. But we can't just look at their negative side, in general, they still have their positive meaning:
1. These methods are mature, and the cost is well controlled. Basically, tungsten carbide components can be mass-produced, which can basically meet the market demand.
2. It laid the foundation for subsequent improvement and innovation and provided valuable experience and data reference.
3. Based on these conventional methods, researchers can further develop novel tungsten carbide components with complex shapes and functional structures.
4. Under the pressure of technological improvement and production cost, relevant enterprises continue to optimize and improve existing preparation methods to improve efficiency and reduce costs.
5. It is possible to overcome these limitations through other new technologies or means in the future, such as 3D printing.
Generally speaking, the traditional method is still a good starting point, which deserves our continuous improvement and perfection. We should focus on its positive side and address its shortcomings instead of just throwing it away. The focus should be on how to further improve and refine existing readiness levels.